With a rich and varied past dating back to 1937, the 'Gatwick' in Melbourne's eclectic St Kilda  neighbourhood has seen many colourful iterations of life.
Once a luxury hotel, then evolving into accommodation for those in need and later featured as the location of reality television show The Block, the Gatwick Private Hotel in St Kilda is entering its latest chapter as the family home of Kosloff Architecture Co-Founders and Directors Stephanie Bullock and Julian Kosloff.
Exploring a sympatico between the building's past and present and new family-focussed future,  Gatwick Private Hotel is a study in editing and salvation and poses questions regarding what it is  we value and why. Imbuing a quiet sense of modernity and sophistication, Gatwick Private Hotel  encompasses a tactility through the introduction of soft material variations and luxurious finishes.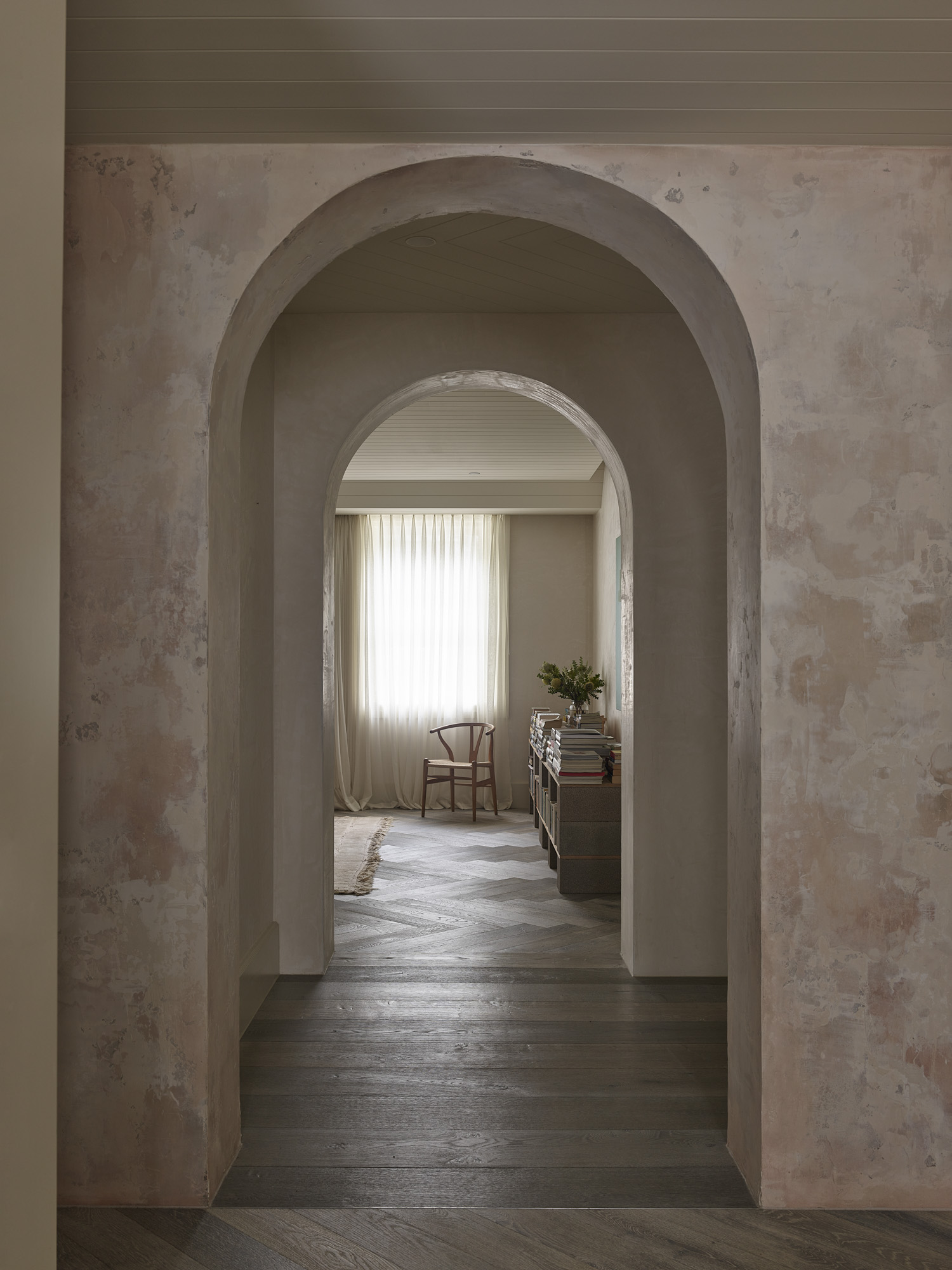 Timber panelling and linen sheers offer a contrast against the existing raw elements leftover from  the retained building which includes decades of old brickwork purposefully exposed to reveal a  storied patina. Complimenting these unique materials is our Royal Oak Floors Arctic Grey Oak Floorboards. Generously included across the revised layout which encompasses four bedrooms,  a communal deck, bathroom, laundry, kitchen and living spaces, as well as a separate self contained studio and events space, our Arctic Grey floorboards provide a cooler base tone  balanced by the layers of soft liming. 
As an award winning and shortlisted project across several prestigious programs, including the  Award for Interior Architecture at the 2022 AIA Victorian Architecture Awards and shortlisted  within the Houses Awards and IDEA Awards, we were thrilled to learn more about the Gatwick  Private Hotel. Speaking with us from her Flinders Lane studio, Stephanie talks to us about the  design philosophy and historical inspiration behind this personal project and how our Royal Oak  Floors floorboards proved to be a pivotal foundation in crafting her own family home.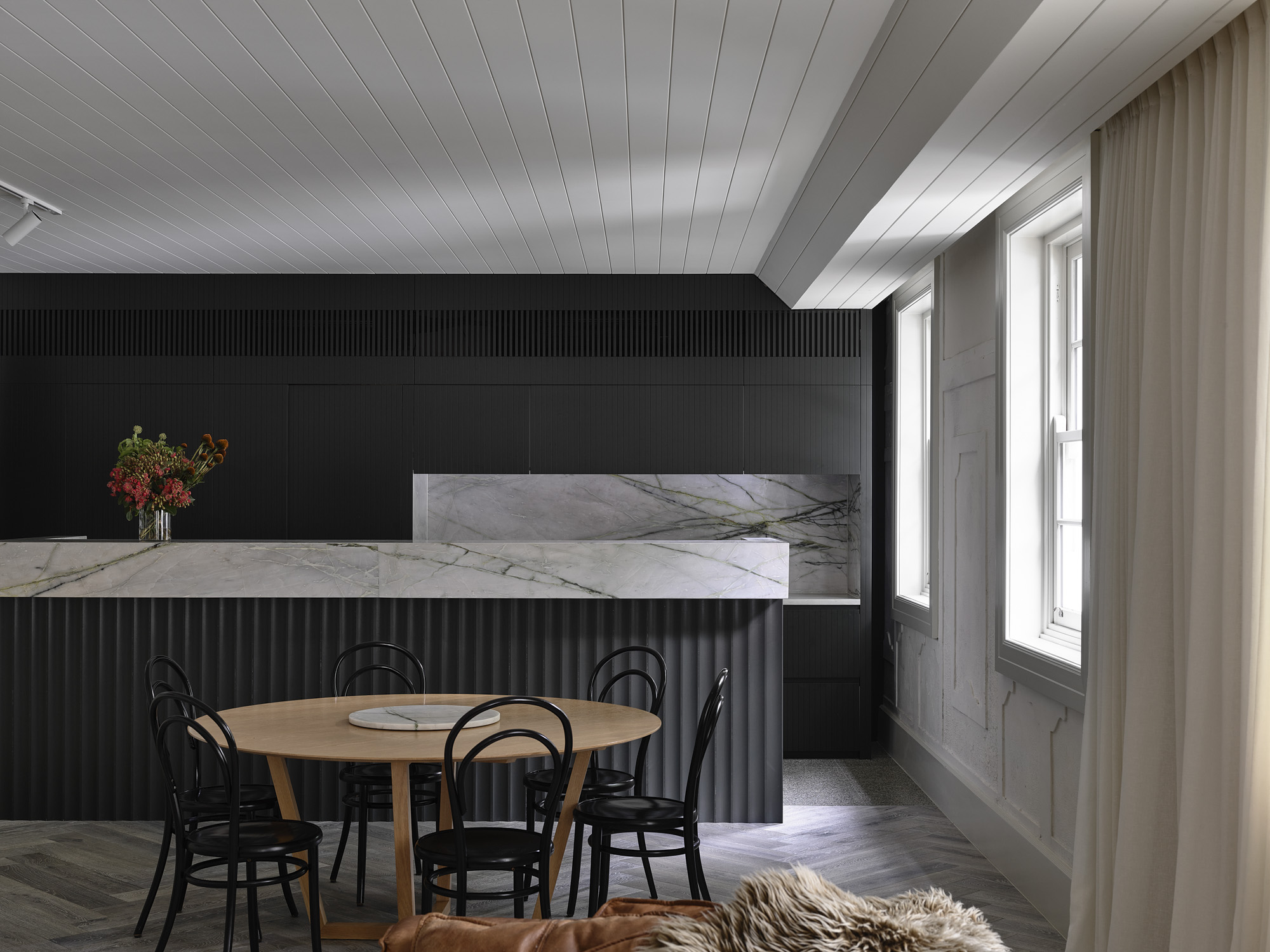 Can you outline the scope surrounding the renovation of your home and the guiding  inspiration that informed this personal project? 
We converted two empty ground floor shells at the Gatwick Private Hotel to create a single-family  home and studio. Being a blended family, we needed a home that could respond to the needs of  just a couple, as well as the needs of three, four and sometimes five people. We also wanted to  avoid any future need to downsize and relocate by being able to split the home into separate  residences.  
Overlaying all this was our desire for the renovation to embrace the complex history of the site  that started as a luxury private hotel, then spent many years as a boarding house and more  recently as private residences.
What space do you gravitate to the most at home and why? 
We are very lucky to have a combination of generous shared family spaces, as well as more  private spaces in which to work but also to relax in, so it really depends on what is going on for  each member of the family at the time.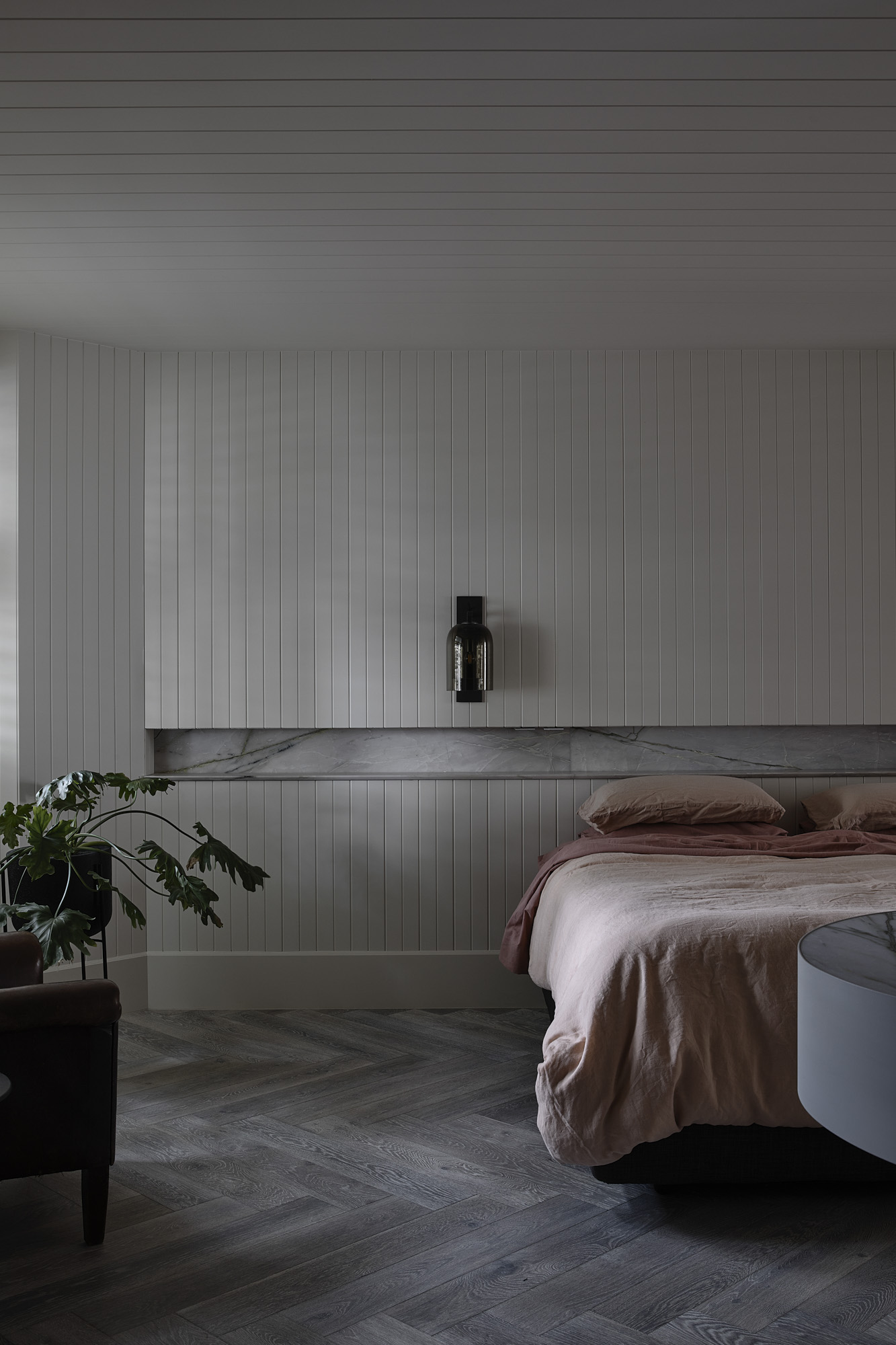 You've crafted a very distinct style through layering variations of tonal finishes and  paying respect to both the past and present. Could you detail how this approach was  applied to the framework of the existing building?
A detailed photographic survey of the internal existing building fabric identified how the remnants  of the existing interior materials could be sympathetically reinterpreted and create a new  dialogue with the building's history. 
Whilst a great deal of the internal fabric had been lost, elements remained that we saw could be  effectively juxtapositioned against new interventions to retain a meaningful sense of the original  interiors. Wherever possible existing elements have been retained and re-used and we are proud  that much of the original building fabric, including plaster mouldings, tiling and paint finishes, are  still visible in almost every space.
From an architectural perspective, what fundamental elements should be considered  when thinking about installing engineered floorboards into an existing building? 
Certainly, the function of the space is important, and we have combined the engineered  floorboards with terrazzo flooring in certain areas to achieve the ideal surface for each space. In  terms of an existing building there are often challenges in terms of the current sub-structure and  wall setout that need to be worked through. However, this can be done provided you consider it  in the design and detailing phase and ensure the product is installed by a highly skilled  tradesperson familiar with the product.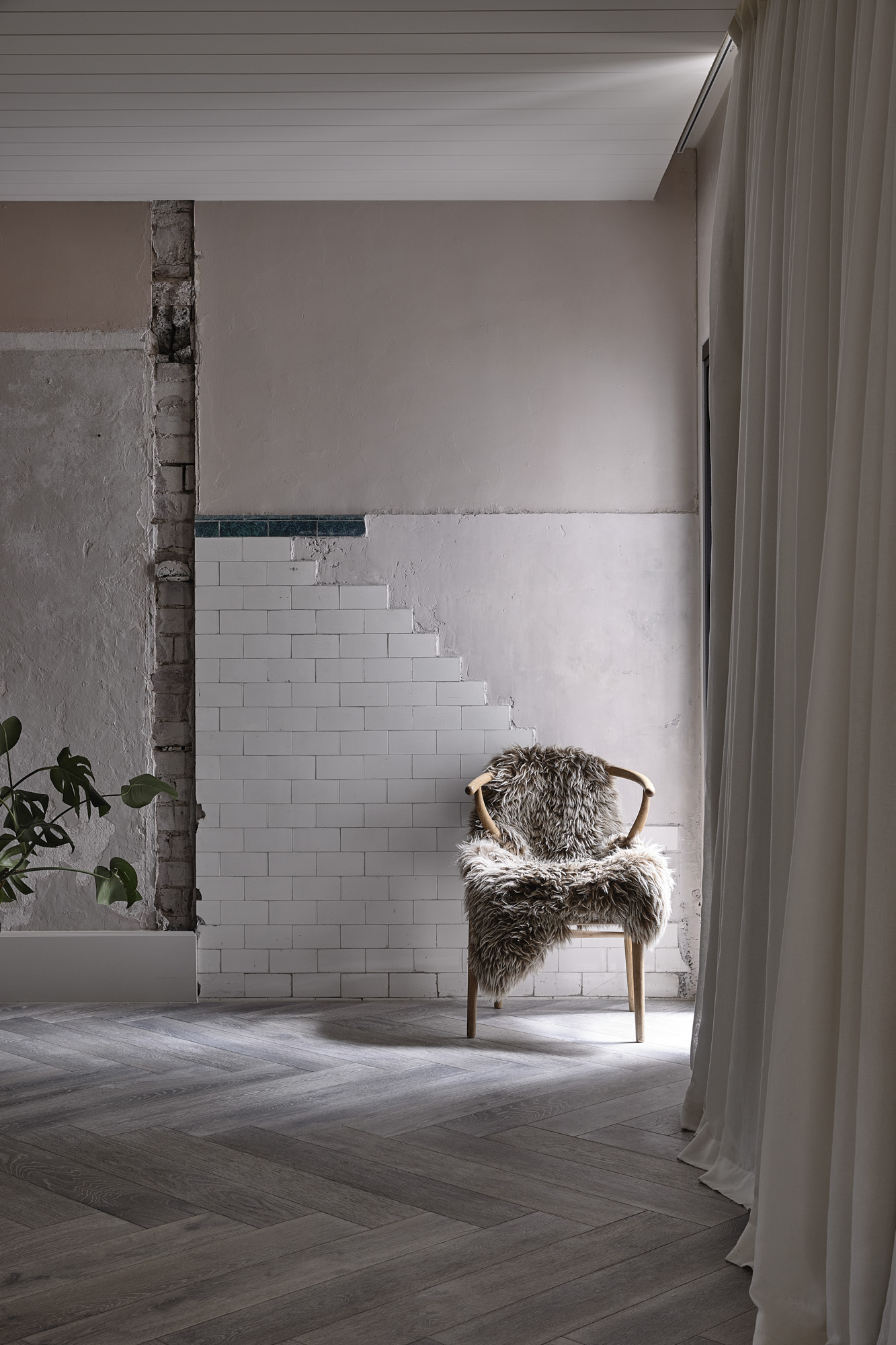 How did our Royal Oak Floors engineered floorboards play a role in reinventing the  interiors of Gatwick Private Hotel and ensuring they were a good fit for your family of  five? 
The Royal Oak Floors Arctic Grey Oak Floorboards that we chose worked beautifully with the  existing palette of our home, as well as the new elements that were introduced as part of the  refurbishment – the extent of the flooring means that it is a significant feature within our home,  and one that is both incredibly durable and easy to maintain.

REQUEST A FREE SAMPLE