Is Engineered Timber Flooring The Right Option For Me?
Choosing your new floor can be hard. Whether it be a new build or a renovation, the type of floor you choose will ultimately set the tone for how your home will look and feel.
More than just something to walk on, the right flooring will create the perfect stage for everyday life, family dinners, movie nights, and everything else that life will throw at it.
One type of flooring that is beautifully sophisticated and great for the everyday Australian lifestyle is engineered timber flooring. Whilst engineered floors have now become one of the most popular flooring options on the market, the choice between alternative finishes needs to be considered.
As the floors you choose are the base of your home, we understand that this is a big decision and we encourage customers to research and learn more about which flooring type is best for their lifestyle.
This article explores the pros and cons of engineered wooden flooring by discussing construction, longevity, price, sustainability and maintenance, so that you are able to make an informed decision on whether engineered timber flooring will be best for you.
How is engineered timber flooring constructed?
Engineered flooring as the name suggests is engineered and pressed together with multiple layers of timber to achieve a super strong bonded board. The majority of engineered boards are composed of the top layer which can also be referred to as the lamella, made of real hardwood generally from European or American Oak, which is bonded to the bottom layer which is available in 3 ply or multi-ply depending on the overall thickness of the top lamella.
The top layer can be cut from the solid trunk either by rotary cutting whereby a slice of the timber is cut from all around the tree trunk to create a continuous veneer sheet, or alternatively a rough sawn cut which is how we produce our boards at Royal Oak Floors. The main difference between the two is that the rough sawn cut produces a stronger, higher quality lamella and ultimately a more attractive board.
Once the large board is made, this is then sanded and cut into the flooring planks with the tongue and groove created to make it an easy to install flooring solution. This is then followed by the staining and lacquer/oil process which can vary between manufacturers.
At Royal Oak Floors, our boards are made using the finest, sustainably sourced European Oak which are all PEFC certified. The logs are sent to our mills where they are rough sawn down to create the lamella's in either 4mm or 6mm thicknesses which are then cold press bonded to the poplar plywood.
How long do engineered floors last?
As we use premium European oak timbers at Royal Oak Floors, our engineered floors can last decades when properly maintained. This is due to oak being a hardwood timber which is more difficult to damage and the strong protective finish that is used on the surface which provides exceptional durability. For more on finishes, read our blog about the difference between lacquered and oiled engineered floors.
As a result of the thickness of the lamella that is used in a good quality engineered oak floor, should your floor start to get worn, you can sand the floors back to reveal a fresh surface underneath which can then either be re-oiled or lacquered depending on the original finish. A good quality engineered oak floor will allow for 3-5 sands throughout its lifetime depending on the thickness of the oak layer.
Royal Oak Floors offer a 15mm thick board which comes with a 4mm solid oak lamella or a 20mm thick board which has a 6mm oak lamella, finished with a UV-cured lacquer or oil which will last anywhere from 30-50 years with the right care and maintenance.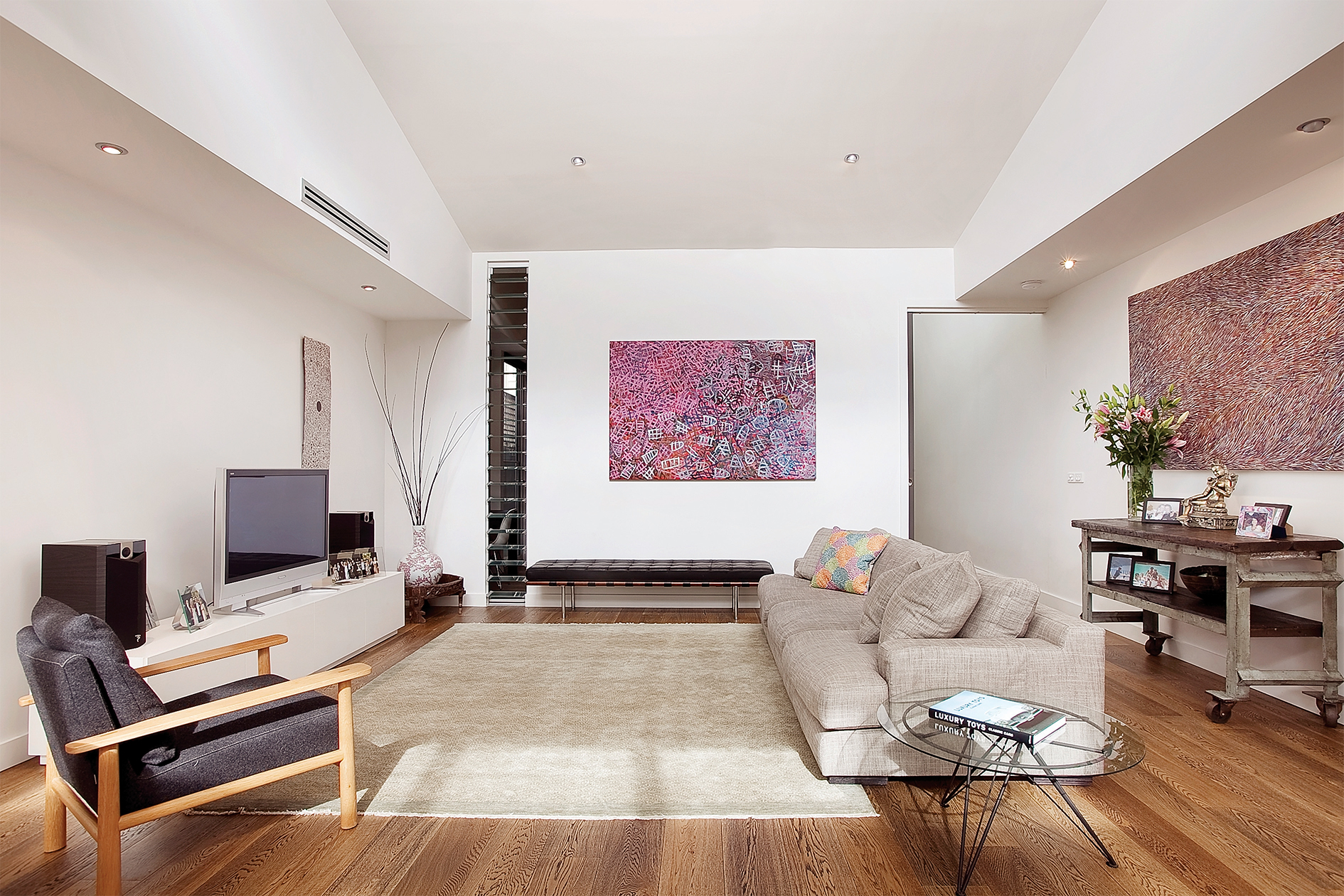 Smoked & Black engineered timber flooring with a lacquered finish
How much does an engineered timber floor cost?
Engineered timber floors can cost anywhere from below $100 up to $500+ per sqm. There are multiple factors that can affect the cost such as the thickness of the board, the origins of the timber, the manufacturing process, and finishes on the board.
When comparing to vinyl or hybrid flooring, engineered flooring does sit at the higher end of the price bracket, however you are investing in a beautifully engineered timber floor which comes with the authentic natural look and feel of a solid timber floor, feeling warm underfoot and extremely solid.
If we then look at the cost comparison between solid timber flooring vs engineered flooring, we find the cost per square metre may be very similar to begin with. However, the benefits of engineered floors are that they come prefinished in the factory under the very best standards whereby a solid timber floor will need to be sanded and finished in home after installation which adds to the overall cost of installation. Further to this, one cannot achieve the same UV-cured finish that an engineered floor can achieve in the factory.
As aforementioned, engineered timber floors also come with a tongue and groove which makes installation a breeze in comparison to installing a solid timber floor which can be very labour intensive and increases installation costs.
For further information regarding pricing, please contact your nearest showroom.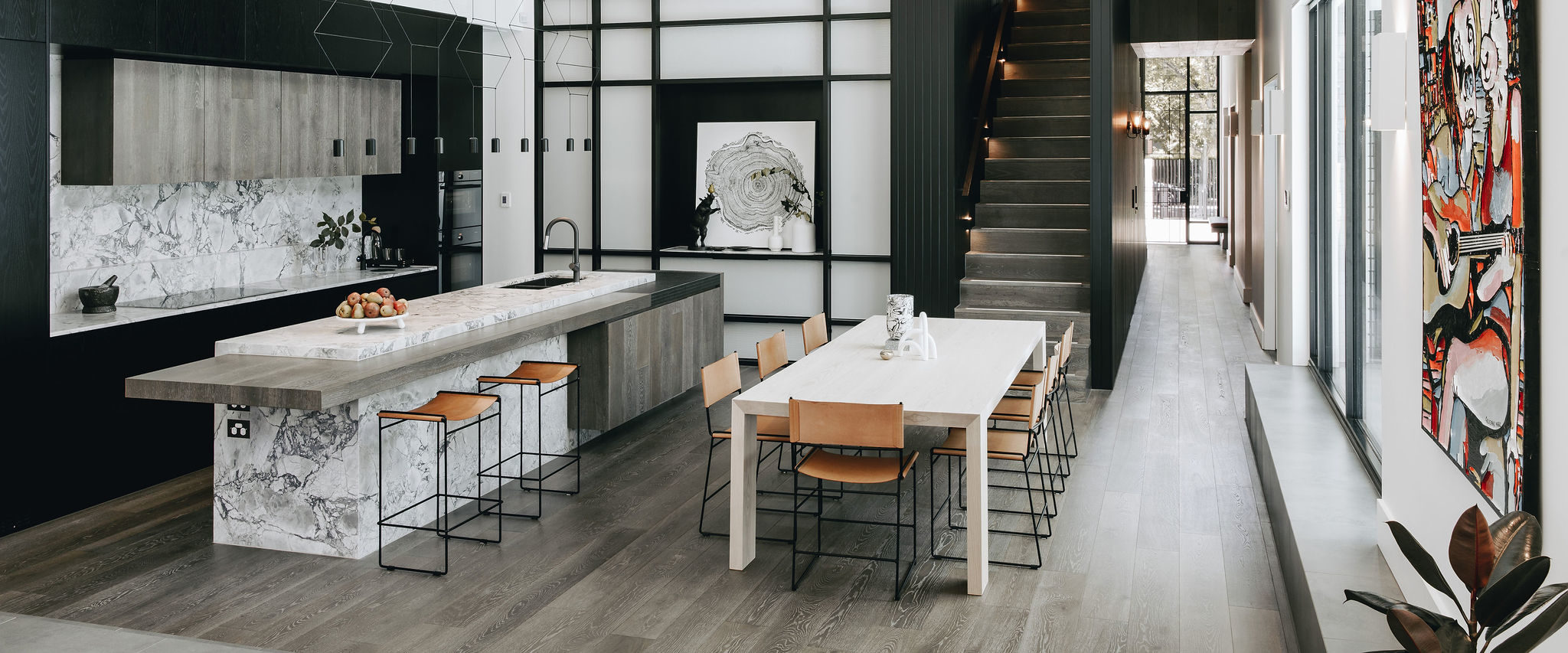 French  Grey engineered timber flooring with a UV-oiled finish
How to maintain your engineered floors?
The care and maintenance of your engineered floors is essential to ensure you get the best out of your investment for your home. Depending on what finish you have – lacquer or oil, will determine how often and the recommended method to care for your floors.
A lacquered floor will be relatively simple in terms of maintenance whereby we recommend regular vacuuming and mopping using the WOCA Master Cleaner which can be purchased either in-store or on our website. For more information, explore our cleaning guide. A lacquer finished floor can then be sanded back after 8-10 years of consistent usage and re-lacquered for many more years of usage.
The alternate finish available for engineered floors is the oil finished range which provides a beautifully, natural look and feel to your floors, however requires slightly more maintenance as we recommend that you use the WOCA Natural Soap cleaner for day-to-day mopping, and a quarterly deeper clean with the WOCA Oil Refreshing Soap which will lift and rejuvenate your floors to keep them looking incredible for many years to come. Further to this, oiled engineered floors will require re-oiling approximately every 3 years to renourish the boards and prevent them from drying out.  The benefit of regular re-oiling will be that you will avoid the sanding process.
With regular cleaning of your floors using the correct products, you will ensure that your floors will live with you for many decades.
So, are engineered floors the right option for you?
There is a lot to consider when choosing your flooring. Floors can be a big choice whether you are building a new home or renovating as it will set the tone for the rest of your home for many years to come.
From longevity, look and feel, price to maintenance options, understanding all the benefits and disadvantages of an engineered floor gives you the power to decide whether this type of flooring is the right decision for you.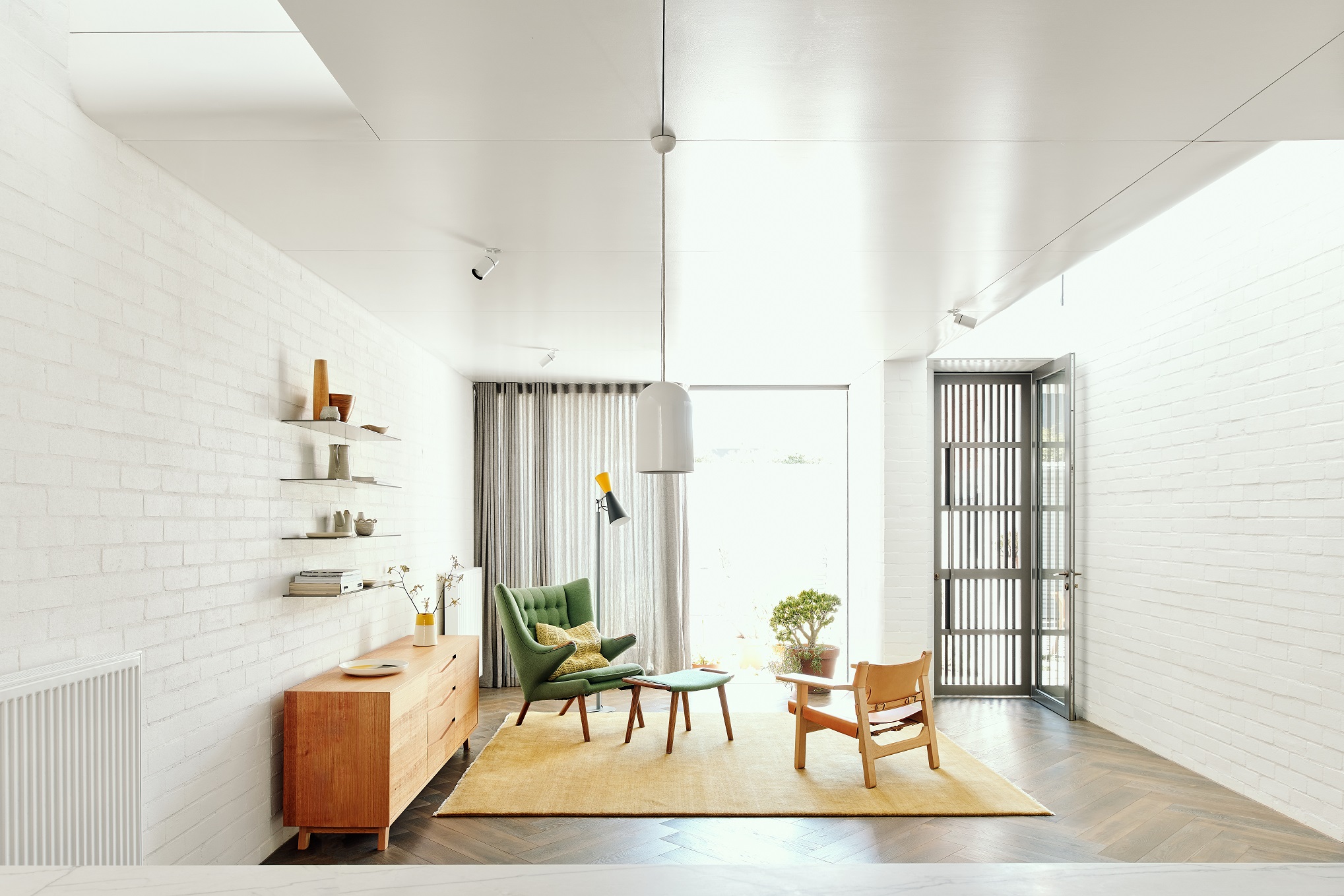 French Grey engineered timber flooring in herringbone
Quick Facts to remember about Royal Oak Floors engineered timber:
Constructed and engineered to precision in our factory, providing a pre-finished product that is easily installed
A quality engineered floor that if cared for correctly can last anywhere from 30-50 years
Various colour options complementing the Australian environment
Can be sanded multiple times over its life just like a solid timber floor
Maintenance is relatively simple and straight-forward
Our timber is PEFC certified from sustainably sourced European Oak
Available in different widths and thicknesses to suit every style of home
If you feel that engineered floors are the right decision for your home and lifestyle, visit your nearest showroom to view the full range or alternatively you may order free samples delivered straight to your door.
Browse engineered timber flooring products 
Royal Oak Floors manufactures the highest quality engineered floorboards to match any style, taste or aesthetic. Our premium engineered oak floorboards showcase the unique colours and features of oak to elevate any interior space. 
Discover our collection of engineered timber flooring and get in touch to discuss your project or visit us in person at one of our flooring showrooms.