Melbourne-based design practice Wellard Architects bring tactility and a refined material selection to an Edwardian family home in Elsternwick.
Specialising in a portfolio of thoughtfully-crafted residential projects, bespoke Melbourne practice Wellard Architects welcome us inside their Elsternwick House. Demonstrating their keen eye for quality and craftsmanship, the Elsternwick House is an original Edwardian home, that Wellard Architects meticulously renovated to cater for a young family while introducing a sun-filled rear extension.
In doing so, Wellard Architects have designed an outstanding example of adapting to a modern Australian lifestyle. Maximising the north-facing orientation of the home, Wellard Architects have placed emphasis on the curation of enduring, high-quality materials, laying foundation to a contemporary family home.
Produced in partnership with estliving.com
Wellard Architects principal architect Huw Wellard says it was important to redesign an open, flexible space for the young family to grow in, without losing the home's pre-existing historical references. "A series of white spaces, delicate details and subtle shifts in tone are layered into a tactile palette of stone, white smoked oak, bluestone and natural linen furnishings," he says. "This conveys a warm ambience, while being durable for the family it houses," Huw says.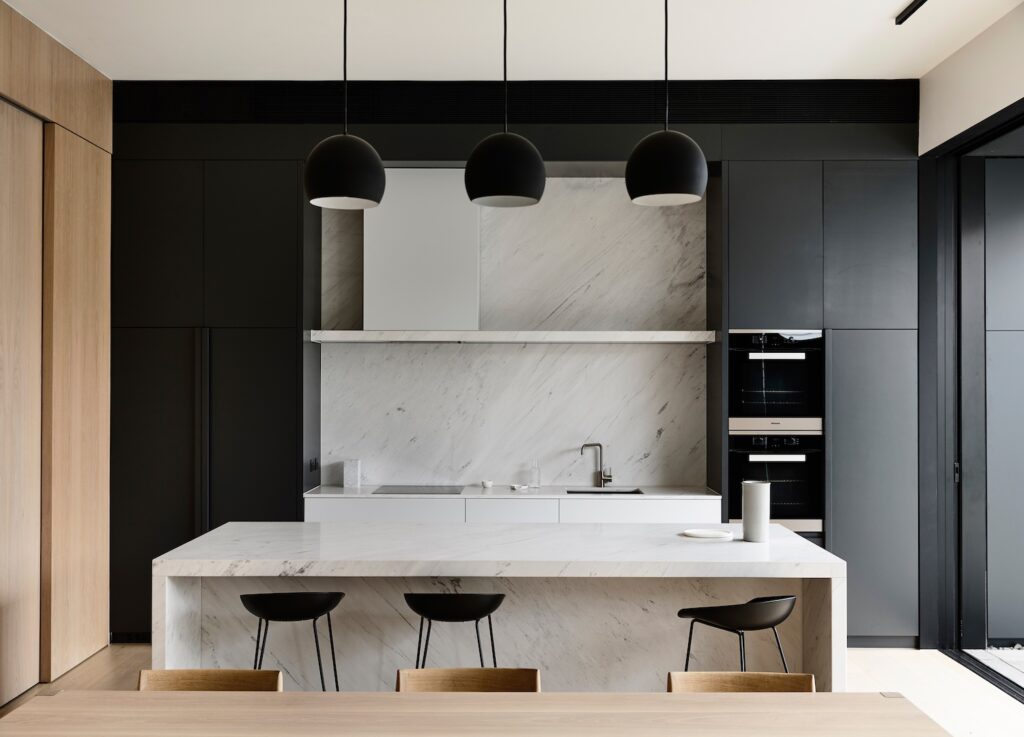 The original brief specified a double-storey extension, but a review of the client's lifestyle and the building's set-back position from the street led the decision to instead focus on pushing the design boundaries on ground level. A nod to the home's past-life, the original glass-stained front door has been retained, with the introduction of a floor-to-ceiling glass window at the end of the extended timber entrance hallway providing custom views of the lap pool
"We wanted a warm and timeless flooring material. The pale European oak conveys warmth to the surrounding tactile materials of bluestone, brick and black steel."

– Wellard Architects principal architect Huw Wellard
Engineered 260mm wide European Oak floorboards in White Smoked, from the Architect Collection by Royal Oak Floors form the base of the family home; its subtle variation and minimal knots perfectly complementing the neutral colour palette that is consistent throughout the space. "We required a robust floor that could withstand the high traffic of a large family," Huw says. "Having a hard-wearing flooring material is crucial in a family home."
Royal Oak Floors pride themselves on their environmentally-friendly, fast-growing plantations and low VOC products. "The ability to use this floor over hydronic heating and Royal Oak Floors' speciality in wide boards was important for the home's light-filled corridors," Huw affirms. "The environmental considerations of Royal Oak Floors also make this product superior."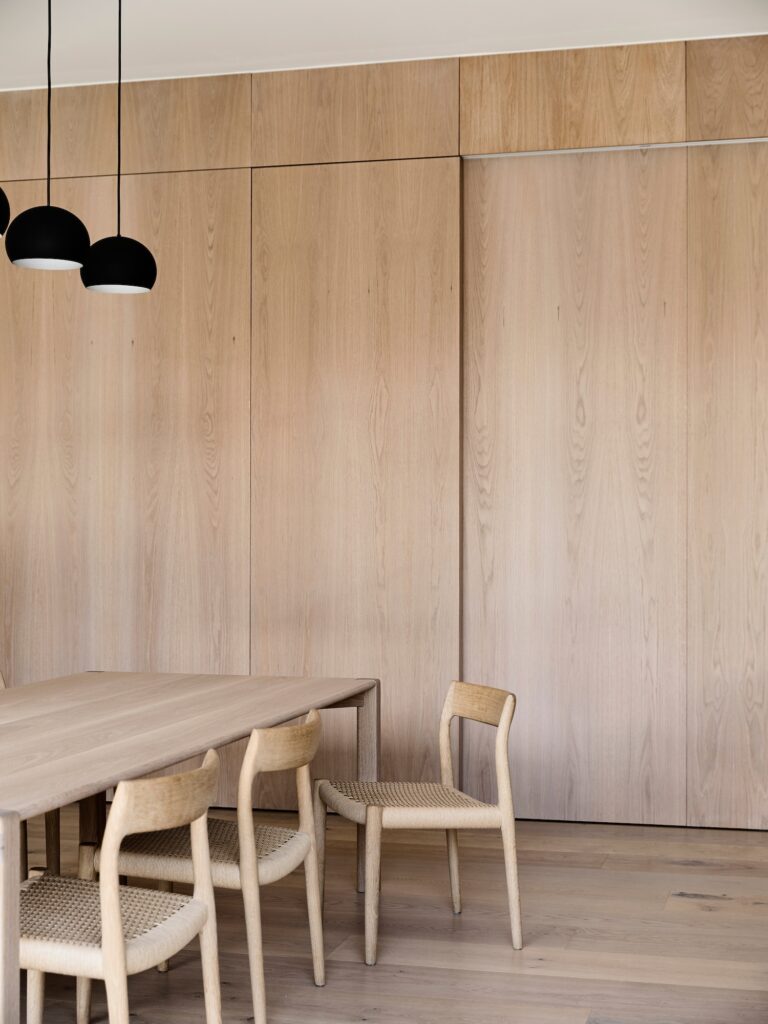 An adjustment to the layout of the home has made way for the kitchen, living and dining room to bask in northerly light, moulded around the existing chimney. Evoking a sense of homeliness and demonstrating the transition from old to new, the brick-clad chimney also acts as a buffer zone between private and communal areas.
Premium materials that stand the test of time are vital in designing a family home with a warranted sense of timelessness. Unphased by trends or current design ideals, Wellard Architects have stripped the home of any inessential elements, with durability and function at the core of their Elsternwick home. Explore est's favourite European Oak flooring in the est product library here.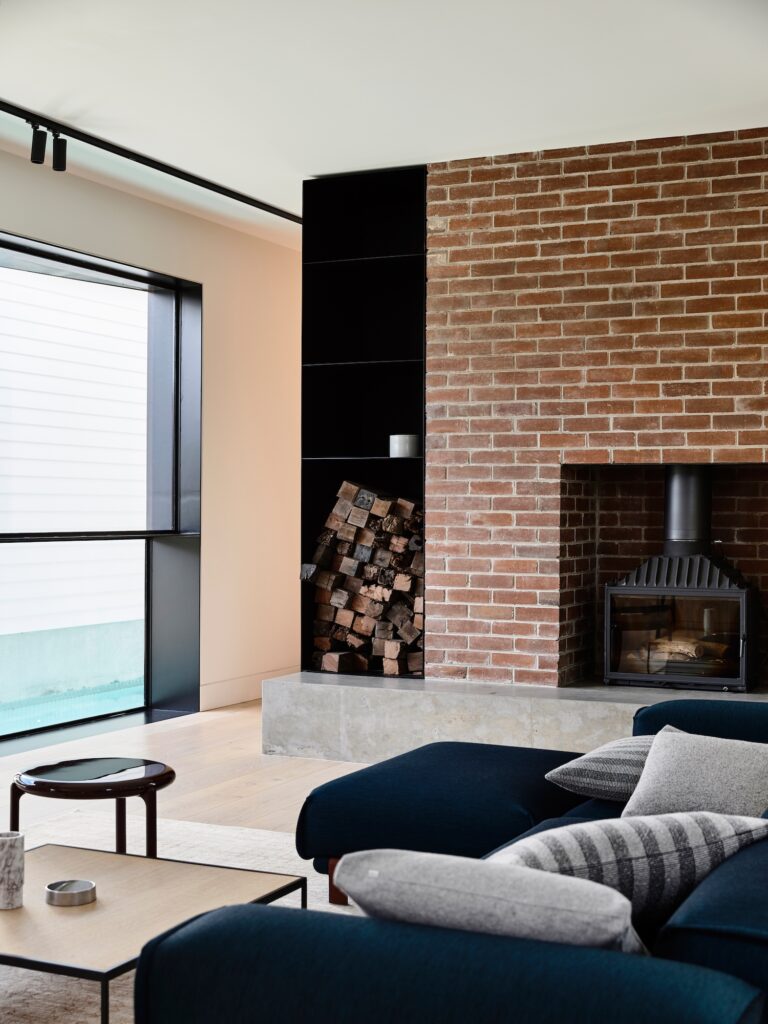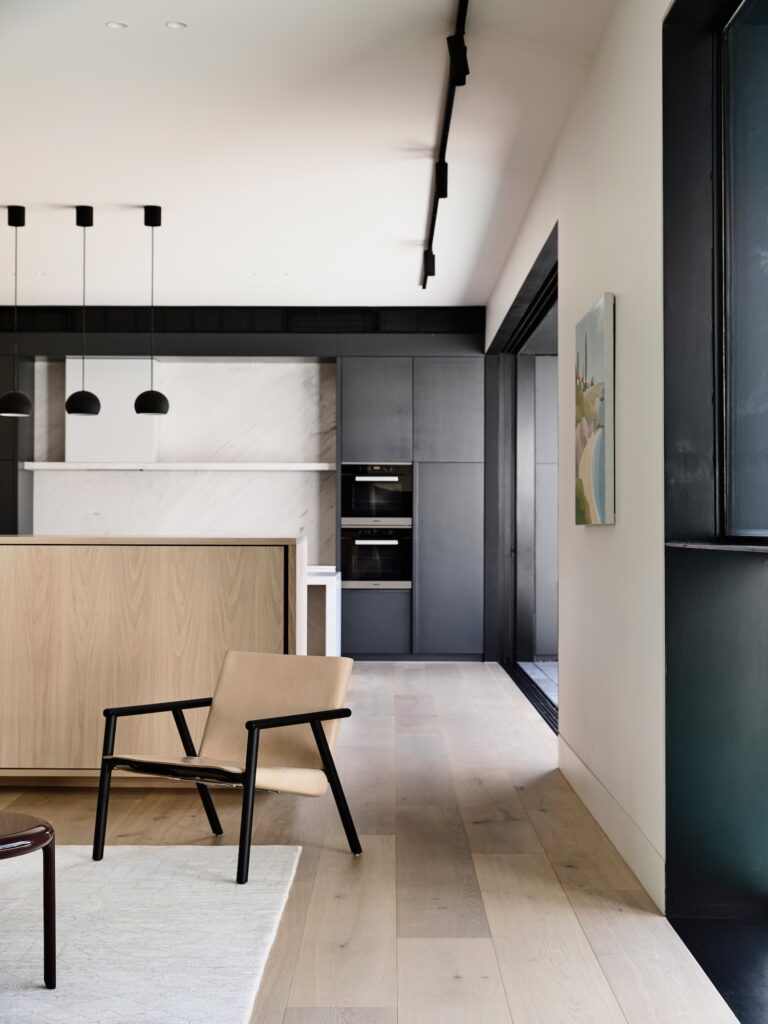 CREDITS //
ARCHITECTURE Wellard Architects
BUILDER Dimpat
STYLING Bek Sheppard
PHOTOGRAPHY Derek Swalwell
WORDS Lidia Boniwell